How should I export food products to the USA from India?
Back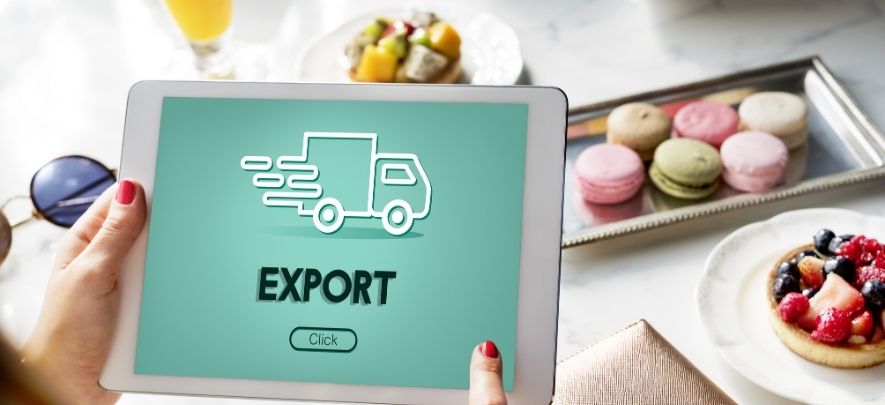 24 Sep 2020, 13:42 — 6 min read
Want to export food products from India to the USA? Great decision indeed! Welcome to the exciting world of foreign trade, i.e., exports and imports.
As per India's Foreign Trade Policy (FTP), an exporter must obtain an import-export license with an IEC (Importer Exporter Code) before operating. Additionally, IEC is a 10-digit number by the DGFT (Directorate General of Foreign Trade) to any Indian business entity that seeks to do international trade from India.
Also, all facilities that pack, process, manufacture, or store foods to be consumed in the United States have to register with the US FDA (U.S. Food & Drug Administration). Facilities from outside the U.S. must also do US FDA registration through a registered agent and abide by USFDA guidelines at all times.
We will tell you everything you should know about IEC online application and US FDA registration.
How to obtain US FDA registration
STEP 1: Appoint US FDA agent
You must appoint a US FDA agent before starting the food facility registration for your business. The agent will assist the FDA while communicating with foreign establishments like you. He will also assist the FDA in scheduling inspections and will respond on your behalf to all questions/ communications from the FDA. You need to submit information regarding your agent electronically through the FURLS (FDA Unified Registration and Listing System).
STEP 2: Submit US FDA registration application form
All foreign and domestic food businesses must submit a registration application on the online portal called FDA Unified Registration and Listing System.
STEP 3: Issue of a registration number by FDA
After successful completion of the registration process, FDA will issue an 11-digit registration number. The same will get into your email.
STEP 4: Issue of US FDA registration certificate
You will receive the registration certificate from your agent. The registration details will be confidential by the US FDA.
Renewal of the US FDA registration
With effect from 2011, the FSMA has made renewal of the FDA registration mandatory to ensure compliance of the USFDA guidelines. All facilities engaged in the packing, processing, manufacturing or storing foods, beverages and nutraceuticals consumed in the United States have to renew their FDA registration. The renewal needs through the authorization of FDA agents.
Please note that the US FDA will cancel your registration if it is not renewed before 31st December, in a biennial period. All the food products you that exports will be on hold at the US port. These products will not be released to the owner, consignee or the importer till the food facility registration is renewed or the 11-digit US FDA registration number is obtained.
Also read: Top export schemes by the Indian government to boost foreign trade
How to apply for IEC online
Here is the step-by-step process to be followed for the IEC application in India.
STEP 1: Visit the online portal of DGFT. Click on the 'Apply for IEC' tab.
STEP 2: You will be prompted for an IEC online application form where you will need to fill up your details (Name, mobile number, email ID etc). An OTP will be sent to your mobile number. Enter the OTP in the space provided and click the 'Submit' button.
STEP 3: In the resultant page, you will need to submit details related to your business such as establishment date, PAN, account details etc. After completing, click 'Submit' to proceed
STEP 4: Further, in this step, you will need to pay the requisite IEC application fee. You can make the payment through electronic fund transfer.
STEP 5: After successful payment, you will need to upload the digital copies of the documents required.
STEP 6: In this step, you will be asked to submit the completed IEC online application form. On successful submission, an Ecom Reference Number will appear on the screen.
STEP 7: Further, take a print of the completed IEC application form. You need to submit it to the DGFT office having jurisdiction in your area.
STEP 8: Additionally, on successful verification of your credentials, your IEC will be issued within 3 to 7 days.
Vakilsearch will carry out the import-export license registration process smoothly for you. Moreover, our dedicated representatives will file the IEC application on your behalf. Post the submission; we would be doing the necessary coordination with the DGFT for expediting your application. Moreover, we can also ensure compliance with USFDA guidelines at all times. We will ensure you receive your import-export license and US FDA registration in just a couple of days.
Also read: How to start an export business

To explore business opportunities, link with us by clicking on the 'Connect' button on our eBiz Card.


Image source: shutterstock.com
Disclaimer: The views and opinions expressed in this article are those of the author and do not necessarily reflect the views, official policy or position of GlobalLinker.
Posted by
Vakilsearch Staff
Greetings! We would love to work with you and your company. We look forward to connecting with business houses and MSME's.
More Articles by this author