Enterprise: Tango Eye
Founder-CEO: Surender Gounder
Industry: Digital & Technology
Year it was founded: 2019
Location: Chennai, Tamil Nadu


Chennai-based entrepreneur Surender Gounder's favourite mythological book is the Mahabharata and he exhibits in business the clarity of vision, strategic acumen, and relentless passion evident in the timeless epic.


Surender is the founder of Tango Eye, a software company that uses the advances in Artificial Intelligence (AI) to generate actionable insights from surveillance videos. Tango Eye works with retailers to understand shopping patterns and with law enfacement teams to detect and alert ground personnel of suspicious activities.


Recently, with the outbreak of Covid-19, Surender and his team have developed Tango Eye Secure—a software that can be plugged into existing surveillance systems to help implement social distancing. Surender is pledging to implement up to 100,000 licences of Tango Eye Secure free of charge for retailers and police personnel for the next three months and is working closely with them to implement the first set of licenses.


GlobalLinker (GL) spoke to the enterprising entrepreneur about his business journey. Excerpts from the interview.


GL: Can you tell us more about your business? What motivated and excited you to start it?


Surender: Tango is an AI company that generates actionable insights from video data. Tango Eye is a product aimed at using CCTV data to generated insights to help retailers increase sales, optimise and reduce costs, implement predictive safety and security standards.
Tango Eye Secure is an AI product to help retailers implement safety standards during the time of Covid-19 and bring about a safe environment for shopping post lockdown. This will greatly help retailers improve consumer confidence.
I strongly believe in the huge disparity in efficiency in ecommerce and the lack of efficiencies in brick and mortar retailing. For example, sales staff spend about 50% of their time idling. I have suffered and had terrible shopping experiences that showed the huge inefficiency in retailing in India. Staff are at times unprofessional and unable to help customers effectively and thus, losing sales. There is pilferage from shoplifting and loss. I wanted to improve the experience of retailing by developing tools to better business. This led me to establish Tango.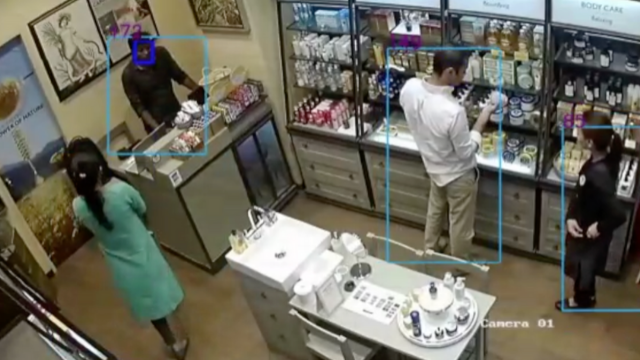 GL: How does your business differentiate itself in the industry?


Surender: Tango Eye is differentiated by many technical factors and features such as the ability to use existing CCTV infrastructure. This leads to zero additional hardware cost. We have the ability to implement across many stores in a few minutes among other things.


Additionally, we partner with retailers—we do not consider ourselves as vendors. This ideology is what helped us quickly build a product called Tango Eye Secure. Tango Eye Secure is an AI product to help retailers implement safety standards during the time of Covid-19 and bring about a safe environment for shopping post lockdown. This will greatly help retailers improve consumer confidence.


GL: What are challenges for your business to grow bigger, better and faster from here? What are you doing to tackle them?


Surender: As a developed SAAS product with a strong team to implement the solution, we only face the challenge of educating consumers and customers on how Tango Eye can help retailers and consumers improve standards and safety of shopping.


GL: How has GlobalLinker helped your business?


Surender: We are new to the platform and exploring how to use it better. I believe there is great value in being part of such a large community of business owners. We are hoping to use the platform to reach more clients and spread the word about our products.


GL: Could you name 3 things that were instrumental in your success?


Surender: Key to our success has been innovation, determination, support from early adopter clients such as Nykaa, Sangeetha mobiles. In addition, support from SME platforms and retailer platforms such as Retailers Association of India (RAI).


GL: What is the next big thing on your business agenda?


Surender: The next big thing is safety and security. Helping retailers, malls and business operators create and enforce safe environments for retailing post lockdown. We are working with many clients to utilise their surveillance network to implement Tango Eye Secure to enforce social distancing, masks etc for safe environment in a Covid-19 world.


GL: What advice would you give to a new entrepreneur?
Surender: Every idea, thought and solution has multiple views. Trust in your views and the views of your customers. Build MVPs (Minimum Viable Product) to validate the views and ideas with early adaptors before building a full product. Spend more time chasing customers than chasing investors. Focus on solutions that can be implemented quickly and be validated and generate some results quickly. Fix small achievable milestones to reach the big picture.


GL: We would love to know the person behind the entrepreneur.


Every day you wake up at – 6:00 am
The first thing you do when you wake up? – Exercise
Things you do to unwind – Walk, Netflix, make a list of things to do to solve problems
When you face a big challenge, you – Go for a walk, clear my head and work out a solution.
The best piece of advice you've ever been given – Every solution has a lifespan. Build simple solutions that solve problems and build upon small solutions for a bigger solution. The grand solution shouldn't be the first solution. Iterate, innovate and pivot where needed.
A book every entrepreneur should read – Elon Musk: Tesla, Spacex, and the Quest for a Fantastic Future.


Also read: Seema Lal, Founder, The RedSaffron


Network with Surender Gounder by clicking on the 'Connect' button on his profile.


Disclaimer: This article is based solely on the inputs shared by the featured member. GlobalLinker does not necessarily endorse the views, opinions & facts stated by the member.
Posted by
Supriya Mathur
As part of the editorial team on GlobalLinker, I shine the spotlight on business owners who are doing exciting and innovative work by featuring them as part of our 'SME...